What A Little White Puppy Taught Me About Faith – Guest Blogger Cari Vollmer
Languages: Matriarch, Huntress, Collaborator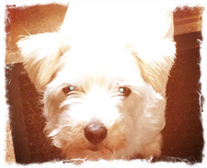 Meet Choxie.
She's our little terrier mix which I often refer to as our magical manifestation dog.
Here's why…
For two years, when Kasie (my 15 year old daughter) was little we often talked about how much fun it would be to have a little dog to go along with our big dog Bogie.
Because we loved to entertain the idea of having a little dog we would often talk about the little dog we would love to come into our lives.  Here's the short list:
Little
White
Mutt
Puppy
Girl
That was it.
Every once in awhile I would feel inspired to check with our local Humane Societies to see if they had any little, white, mutt, girl puppies
available at their kennels.  We were always told no.
However, even though we weren't finding our little, white, mutt, puppy we never stopped talking about her.  Every once in awhile the topic would come up and Kasie and I would daydream together about having a dog like this.
Then one day, in the spring of 2008, Kasie came home from school and shared with me that Hannah's pregnant dog Nellie just had her puppies and could she PLEASE walk to the end of the block and go visit them.
As soon as she asked I knew what was going to happen next.
The phone rang.  I answered.  I heard Kasie's voice:
"Mom, you've got to come down to Hannah's house! Nellie's puppies are SO CUTE MOM and you'll never guess what!"
"Is there a little white one?" I asked.
The squeals I heard come through the phone validated what I already knew.
Here's what I found when I got to Hannah's house (I know, cute beyond words, right?):
And as they say, the rest is history.
I will cherish this story forever because it so perfectly illustrates the magical nature of the universe… a universe that will give you exactly what you ask for IF you're clear AND if you keep the faith you will receive that exact thing .
In no way could we have predicted HOW Choxie was going to come into our lives. We could have never guessed a neighbor, one block away, would breed their Cairn Terrier with their Lhasa Apso to produce the most adorable litter of puppies you've ever seen, ONE of which just happened to be white, little, clearly a mutt, and a girl.  (I still get chills!)
Maybe we should have named Choxie FAITH because that's what we demonstrated all those months we wished for her.  We never worried how we were going to find the exact puppy of our dreams we simply surrendered our wishes and stood back, allowing the universe to work its magic on our behalf.
Remember this story the next time you wonder where your next clients are going to come from. If you're clear on what and who your ideal clients are keep imagining what it will be like working with these amazing individuals.  Imagine, in detail, who they are, what they look like and how excited they're going to be to work with you.
Mike Dooley (tut.com) states in his book Leveraging The Universe the only job we have is to send pitches, it's the universe's job to hit the homeruns that delight us.
Imagining the homeruns coming your way…
Cari Vollmer, The Passion into Profit Mentor, teaches women entrepreneurs around the world the HOW TO and MAGIC of attracting more clients, money and recognition doing the exact work they are here on earth to do!
Cari is a gifted coach and mentor with a unique ability of SEEING what her clients can't see for themselves, including their Core Brilliance. She has a remarkable sense of what gets in her clients' way of achieving success, both strategically and in regards to their mindset.
Cari's PASSIONS include: 1. helping her clients SEE what makes them remarkable and unique so they can build a truly "one of its kind" authentic, purposeful and profitable business; 2. helping her clients create simple and strategic "client attractive" plans that get RESULTS; and 3. creating a space for her clients to listen to, hone and trust their intuitive business building instincts.
Cari inspires her clients to embrace their brilliance and step into their good fortune with gusto!  To receive Passion Into Profit's no charge Success Kit visit www.PassionIntoProfit.com
If this article resonated with you, we invite you to listen to the audio of Jennifer interviewing Cari below.