This is a list of statements that clients have said to me in one day! One day!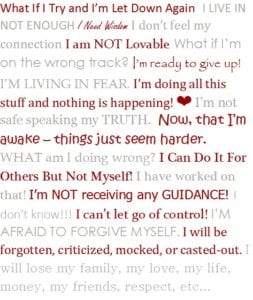 It is so easy for us to slip back into old habits, especially if we feel like we are not getting the out-picturing of the life we want! True transformation turns into transcendence when every cell in your body is on board, when you embody the transformation.
So what does that look like in your everyday world?

Does all this sound TOO GOOD TO BE TRUE? If you think that there is a magical key that is going to unlock this profound connection, then yes, it is too good to be true! This is about you building your relationship with yourself and the Divine. And that means participating in that connection daily!
Is it time to ask yourself: "So when are you going to stop bullsh*&ting yourself, blaming others, blaming the Divine, and start living the truth that YOU ARE ONE WITH THE DIVINE?"
Those answers, the tools that have been Divinely guided, and how to tap into your own answers are what I share with others.
All the collaboration I do with clients is not telling them how to do it my way, but providing them with questions and the space to embrace, accept, and practice their own deep connection, deep truth and profound safety. And, what I realized about innovators is, well…
What's a Spiritual Renegade? Click here to take the survey to see if you are a Spiritual Renegade.
So I thought, what could I offer to my peeps that would support all of their innovation and help them create a more profound connection?
Introducing — The Spiritual Renegade Platform – Creating The Foundation For A Life Of Innovation And Abundance
The result of this program are: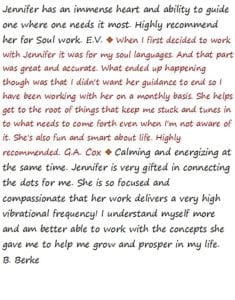 Feel a deeper sense of connection and flow in your life

Feel a deeper sense of trust of yourself and the Divine

Know that you are loved, supported and provided for (and allow those knowings to be experienced during your day)

Be able to both RECEIVE and GIVE generously

Express your truth and purpose with ease and grace and receiving from that truth

Embrace your fear and learn that it has no power over you

Tools and tangible ways of being the truth of you (which is love, peace, wisdom, grace, abundance, etc.)

A personal platform that you can use, develop and continue to embrace
Here are the elements of the program:
One Soul Language Identification Session or Dive Deeper Into Your Soul Language Identification Session

3 Downloadable Audios (which include exercises, tools and tips to creating your profound connection with the Divine)

2 Videos to help you accept your innovation, your talents and let go of those "things" that are no longer serving you

3 30-minute one-on-one sessions with ME! During these sessions we will: clear energy blocks, create your own personal tools for a deep relationship with the Divine, build safety and trust with the Divine, and help you to accept that you are here to RECEIVE and GIVE generously.
The "program" is conducted over 40 days, and you can start at any time.
The investment is:
$650.00 one time payment
The investment with two payments:
$330.00 per month for two months