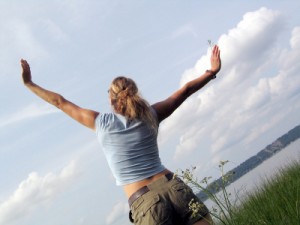 Languages: Matriarch, Huntress, Collaborator
I recently had a friend ask me if I'm really as happy and upbeat as I come across in my ezine. Hmmm, I thought, am I? My answer to her and you is YES but I want to explain why.
It wasn't that long ago that I felt trapped in a career that made me feel drained and lifeless. It wasn't that long ago that I was shouting to the stars on a secluded beach in Jamaica, "there's got to be more to life than this"! It wasn't that long ago I lost three members of my family, all in the same year.
Those days were REALLY tough and I was not happy or upbeat. In fact, I was quite the opposite. I was depressed. My life felt flat. I had no direction or purpose. Even though on the outside my life looked pretty great, I was miserable.
During that time a friend said to me that I seemed as though I was doing O.K. I explained to her I wasn't but somewhere deep inside of me these words rose, "But it's OK, because I know I'm going to have a great life." I'll never forget the look on my friend's face and I'll never forget how I felt making that declaration. I had no idea HOW, under the circumstances, I could utter those words during that time. Today I know those words came from my soul, not my pain.
As I began my healing journey miracles started to happen. Life-changing books dropped into my lap (Gary Zukav's Seat of the Soul), and I met and hired my first coach. I started noticing the synchronistic events that seemed to be telling me YES, there is more to life than this! And I was listening!
Soon, I became determined to explore the inner callings of my soul. I made a decision to LISTEN and say YES to what I was hearing. At first I was "instructed" to take classes, read certain books and surround myself with certain people.
The more dots I connected the more "information" I got. I would pick up a magazine and inside were articles of women who had started their own businesses and LOVED it. (Hey I thought, I've always wanted to do that.) I read stories of people with lifestyles I admired and about others that were helping to transform lives around the world. (Hey I thought, I think I'm supposed to do that!)
And so it went, on and on like that, and still is today. I reached a point in my early journey when all of the steps I had taken led me to take a big leap of faith. I knew, beyond a shadow of a doubt, I couldn't continue working as an employee and needed to call my own shots. I knew this so deeply every day I did the opposite caused me a lot of pain and suffering.
So I made a power-filled decision to quit my cushy corporate job, start my own business, and live the life of my dreams.
I'll never forget the day I gave my notice. I chose January 2, 2001 as THE DAY. On my way to work that day I was in full freak out mode! Thankfully I had two angels in my life that called me while I was on the road. As I freaked out they cheered me on. As I cried they told me I could do it!
Thank God for those women. As I entered my office and sat at my desk I looked into my boss's office. There she sat looking at her computer, as she did every day. I couldn't actually believe what was about to happen was actually going to happen but I knew I had to go for it…that the moment had come and the only thing left between me and the life I was born to live was one last final boost of courage and about 30 feet.
As I got up from my chair, entered my boss's office, closed her door and sat in a chair across from her I took one big deep breath before I said…
"The time has come for me to give my notice and leave. I've decided to follow my heart and start my own business."
You could hear a pin drop as my boss absorbed my bold and very heartfelt declaration. And then she nodded and said WOW and then wished me well.
That was that. I did it! And I had never felt so ALIVE in my life! All of the terror I had felt was gone. All of my doubts were gone. I felt terrific, alive, purpose-filled and very, very on track.
It's fun for me to remember that time of my life and doing so reminds me that I am always at choice when it comes to what I'm willing to put up with, surround myself with, do, not do, think, feel, etc. It's because I made that first bold declaration I have been able to make others. It's because I took that one big leap of faith I've been able to take others.
So, why am I able to maintain my happiness and upbeat way in the world? Because I listen deeply to my soul's calling. As soon as I stopped ignoring it, my life changed.
It's because of these things I live the life I have today. Is it always an easy road I've chosen? Not at all. I have my days, just like everyone else. BUT, these are mere blips and somehow I find my way back to the path I have chosen, a path that makes me feel happy inside and out.
So, from someone who's "been there, done that", I offer this advice:
Listen to your soul's calling, especially when you're being nudged to do so
Know that if you ignore your soul's calling you will suffer much more than you need to
You are perfect for your soul's calling. In other words, God/The Universe/Source didn't give you the desire for anything you can't handle
I wish I could say it will be smooth sailing, but often it isn't. There will be blips. Your soul's calling will require things of you. You will need to stretch your comfort zone, over and over again
You also may need to HEAL what must be healed in order for you to live a fully expressed life. The closer we get to our dream the more gunk rises to the surface. That's OK that it does, just know you'll have to deal with it when it does. (Because if you don't you will suffer.)
Get help. Don't do any of this alone! I had to learn this the hard way and please listen when I say, don't do it alone! Get support, help, guidance and mentoring. You will need it.
Enjoy feeling ALIVE. That means a lot of things, including feeling not so hot sometimes, experiencing setbacks, doubts and worries. But along with that comes incredible moments of clarity and feeling very purpose-filled and life will feel better than ever!
Do not to step away from what you are being called to do, or try to cleverly negotiate your way around it. OWN IT. Say YES to it. Again, you will suffer less by doing so. And please know I know what it takes to say YES. Everyone who does is my personal hero.
If you're being called, take it seriously. You are here to help transform the world.
Cari Vollmer, The Passion into Profit Mentor, teaches women entrepreneurs around the world the HOW TO and MAGIC of attracting more clients, money and recognition doing the exact work they are here on earth to do!
Cari is a gifted coach and mentor with a unique ability of SEEING what her clients can't see for themselves, including their Core Brilliance. She has a remarkable sense of what gets in her clients' way of achieving success, both strategically and in regards to their mindset.
Cari's PASSIONS include: 1. helping her clients SEE what makes them remarkable and unique so they can build a truly "one of its kind" authentic, purposeful and profitable business; 2. helping her clients create simple and strategic "client attractive" plans that get RESULTS; and 3. creating a space for her clients to listen to, hone and trust their intuitive business building instincts.
Cari inspires her clients to embrace their brilliance and step into their good fortune with gusto!  To receive Passion Into Profit's no charge Success Kit visit www.PassionIntoProfit.com