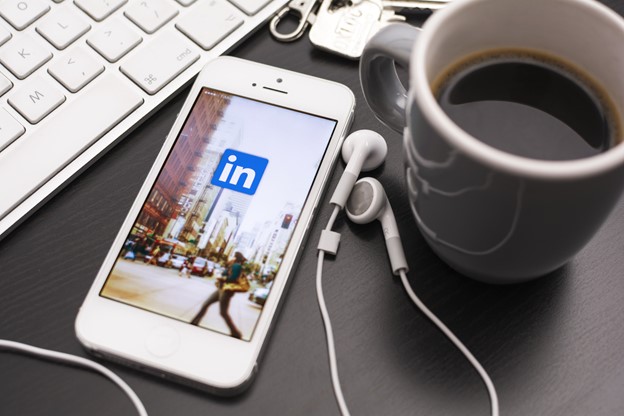 LinkedIn has come a long way in the past few years. What used to be just another business networking website has developed into a space where you can showcase your business and connect with other businesses in the process. Now, business-to-business (B2B) marketing is more popular on LinkedIn than ever before.
B2B marketing is businesses marketing to other businesses, as opposed to marketing to consumers (B2C). You market your products or services to be used by other businesses or organizations. This type of marketing limits the audience you're marketing to and allows you to hone your marketing tactics and focus on just decision-makers.
Here are a few ways you can use LinkedIn to help you with B2B marketing:
1. Enhance Your LinkedIn Page
Your LinkedIn page is the place where any potential businesses will find all of your information, so it's best to keep it as up-to-date as possible. Ensure that your page has any crucial information about your business and a link to your website. Any visuals should be engaging and help your business page stand out. If you already have a LinkedIn business profile set up, it might be time to give it a makeover.
One way to enhance your page is to make sure that there is a call to action somewhere on your page. Your goal is to get visitors to your page to click through to your website, which means you'll have to direct them. A link to your website should be in your description, and your description should start with a sentence that grabs readers' attention. Instead of starting with statistics, try to start with a sentence that identifies your target audience or explains how you're able to help their business. Doing this can increase the odds of them reading more and then going to your website.
2. Run Targeted Ads
Advertising on LinkedIn can be a good way to allocate some of your marketing budget. It is essentially a hub of businesses and business owners, making it a great place to use your digital advertising dollars. Because organic growth can be a challenge, using targeted ads on LinkedIn can be a great way to up your B2B marketing game.
Targeted ads get your advertisements in front of the right audience at the right time. This sponsored content shows up on the LinkedIn feeds of users, so they see your ads when they're most engaged online. Through this process, you can narrow down the audience for your advertisements and make them specific to businesses that may be interested in your services or products. You can even run ads that showcase special deals just for business owners interested in working with you.
3. Publish Quality Content
LinkedIn allows you to publish content on your page, so you should be doing so whenever possible. This allows users to interact with your page and draw more attention to your brand. A great way to utilize this tool is to write blogs. Blogs that talk about your niche will bring interested businesses to your page. When they begin to notice that they can get valuable information from the blogs you post, their interest will be piqued by your business and the services or products you can provide them.
Publishing blog posts on subjects relevant to your products or services is important. So is making sure that you're publishing high-quality content. If you're publishing often, but the quality of your posts isn't good, businesses won't trust your expertise on the subject. It's better to publish high-quality content less often than it is to spam your page with lackluster content. With enough good-quality posts, you'll increase your chances of them being liked and shared more often.
If you don't have a knack for writing, you should consider hiring a marketing company to help with your digital content. Digital marketing companies like InnoVision can help you to create articles that are relevant to your business. By using specific keywords, these articles can help to boost your SEO and get more traffic to your website.
4. Join Groups
Within LinkedIn, there are thousands of individual groups people can join in an effort to network. These groups vary depending on the subject matter and are filled with experts and people interested in that specific subject. With so many groups established, it is almost guaranteed that there is a group on LinkedIn that is directly related to your niche. A great way to use LinkedIn for B2B marketing is to join a few of those groups.
Joining LinkedIn groups is one of many ways for your business to find leads. You can do this by searching for groups using keywords that are relevant to your niche. You want to find groups that are the most relevant to the target audience you're seeking. When you find those groups, you should check how active they are. There will be a low chance of finding success if you join a group that has low activity. Very active groups show that people are checking in and posting on a regular basis.
Finding a group that isn't too big will also increase your probability of success. It's easy to get lost in groups with too many members, so aim for groups that have a member count in the medium range.
5. Identify and Search for Your Audience
Before you start your B2B marketing, you should know who you'll be marketing to. This type of marketing can be highly effective on LinkedIn when you're putting your efforts in the right places. Go through the market research to identify which types of businesses you'll be marketing to, and then you can use LinkedIn's advanced search to find them.
Searching for your audience on LinkedIn is easier than ever, and it can help you to both find and identify the businesses you most want to work with. Their advanced search allows you to filter your search by location, current company, past company, industry, language, and more. With it, you can get more specific with your target audience than you ever imagined, which can turn into more leads and more sales potential.
Need help with your LinkedIn B2B marketing? Reach out to InnoVision Marketing Group today. They can help with B2B marketing, branding, research and so much more.